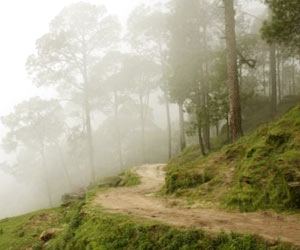 Location:
Uttarakhand
Summer Temperature:
Max: 30°C; Min: 15°C
Winter Temperature:
Max: 24°C; Min: 0°C
Best Time to Visit:
March to October
Idyllically situated in the hill state of Uttarakhand, Lansdowne is a perfect place for experiencing an enthralling stay in the lap of nature. The best feature of this place is that though being hill station; it is much unlike the hustle bustle prevalent. In addition to this, the largely unexplored terrain makes way for it to be an amazing destination. To top all this is the salubrious climate defining the glory and beauty of the place. The climate in Lansdowne is absolutely blissful and joyous. During summers (from April to June), temperature rarely reaches the 30 degree mark. Much unlike the plains, the weather even during the peak summer season is usually pleasant and enjoyable.
As for the winters in Lansdowne, it is usually cold and chilly with temperature dropping down to even 0 degree mark. While the daytime is warm, early mornings and late evening, (not to forget nights as well) are extremely chilly and freezing. Winters starts from the month of December and lasts till February. Snowfalls throughout winters are a spectacular characteristic of Lansdowne. As for the monsoon, rainfall usually commences from the month of July and lasts till October. Ideally, Lansdowne is best when explored from the month of March to October. The refreshing beauty plus the salubrious climate is sure to make it a perfect hill destination for everyone, away from the scorching heat of the plains.