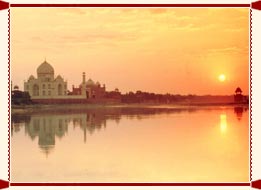 The climate of Uttar Pradesh varies from Temperate in Eastern Uttar Pradesh to Extreme in Western UP to Semi Arid in Bundelkhand and Agra zone. Therefore it is extremely difficult to categorize it a particular climatic frame. Nevertheless, summers are very hot and winters are bit chilly.
Weather in summer
It is very hot in the summers across the Uttar Pradesh but there is a slight fall in temperature as we move from western UP towards East. Summer season persists from April to August. The daytime temperature remains very high and usually touches around 45°C in Western Uttar Pradesh and Agra zone where as it remains around 42°C in Eastern Utter Pradesh. Night are relatively cooler typical of extreme climate and the temperature comes down to as low as 28°C because of the cool breeze. Dew is very common in all the parts of Uttar Pradesh.
Weather in winter
Winters in Uttar Pradesh are a lot cooler with day temperature pleasant around 24°C. And nights are chilly with temperature getting as low as 2 to 4°C across the state. Earlier Eastern regions were comparatively warmer but due to persistent change in the weather trends, even these areas fall under intense cold wave. Cities like Allahabad and Varanasi are continuously seeing mercury dipping to freezing point. The winter falls around Mid-November and continue till February end.
Weather in monsoon
As Uttar Pradesh stretches from North India towards Eastern, the rainfall varies considerably. While the South West monsoon is very moderate in Western Uttar Pradesh it rains very heavily in short spells as far as Oudh and Eastern regions are concerned. The average annual rainfall varies from 105-110 centimeters in places like Allahabad, Varanasi and Azamgarh to as low as 45-50 centimeters in Agra, Ghaziabad and Merrut. Relative humidity in semi-arid regions such as Agra, Firozabad and Dadri is very high to the point where it becomes uncomfortable. The western disturbance too brings fair amount of rainfall. Approximate average annual rainfall in the state is around 65-70 centimeters.