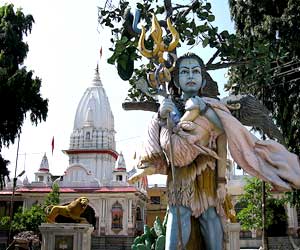 Daksha Mahadev temple is one of the most ancient temples of Lord Shiva, situated in Kankhal. The temple is approximately 4 km away from the main township of Haridwar. Mythologies relate this temple to Daksha Yagya. According to the legends, Goddess Sati's father Daksha Prajapati performed a yagna, a holy ritual, at this place, but did not invite Lord Shiva, his son-in-law. Sati felt insulted by his father's behavior and sacrificed her life in the fire of the yagna.
It is said that it was on the site of the yagna, and Sati's sacrifice, that Daksha Mahadev temple was later built. There is a pit within the grounds of the temple which marks the exact location of the sacrificial fire. One of the five most Holy places in Haridwar, the temple stands as a tribute to the sacrifice of Sati Mata. Also known as Shri Daksheshwar Temple, it was initially built by Queen Dhankaur, in 1810 AD. It was, however, reconstructed in 1962.
The holy Shiv idol, in phallic form, is situated at the centre of Shri Daksheshwar Temple. The temple is visited by thousands of devotees in August, also known as the holy month of Sawan, the month of Lord Shiva in the Hindu calendar. Special rituals are also performed here on the Shivratri, the marriage day of Shiva and Shakti. Close to this temple are two other holy places, Daksha Ghat and Nileshwar Mahadev Temple.