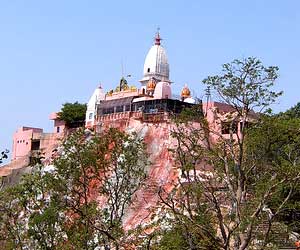 Situated atop the Bilwa Parvat, on Shivalik Hills, Mansa Devi is approximately 2.5 km from the main township of Haridwar. One of the most visited temples in North India, the temple is known for being the holy abode of Goddess Mansa, the wife of Nag Vasuki and the brainchild of Saint Kashyap. The main temple has two idols of the presiding deity - Mansa Devi, one with three mouths and five arms, while the other one has eight arms.
Mansa Devi is one of the major Siddhapeeths in India. In fact, it is the apex of the Sidhpeeth triangle, formed by the trio of Mansa Devi, Maya Devi and Chandi Devi. This auspicious temple is known to have the power of fulfilling all the wishes of the devotees. Mansa Devi temple is open to the devotees throughout the year. On a normal day, it is open between 8am and 5 pm, except for lunch closings of 12 pm to 2 pm.
A famous ritual at Mansa Devi temple is to tie holy threads to the sacred tree standing within its premises, for the fulfillment of the devotee's wishes. Once the wishes are fulfilled, the holy thread has to be untied, so as to pay regards to the goddess. Mansa Devi is also offered a gift of coconuts fruits, marigold garlands and incense sticks in order to appease her. Thousands of tourists come here every month, with hopes of getting their wishes fulfilled.
Other than being a holy shrine, Mansa Devi temple is a popular tourist destination, especially because of the cable cars known as 'Devi Udankhatola'. The Udankhatola carries a passenger from lower station right up to the temple. The ropeway is situated at a height of 178 meters from the ground and its full is 540 meters. It provides a panoramic view of the beautiful city of Haridwar. If you want, you can follow the trekking route up to this holy shrine.