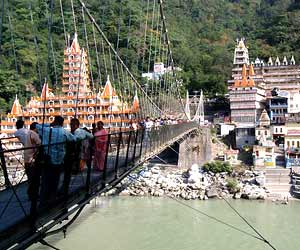 Considered as one of the most sacred pilgrims in Hindu Religion, Haridwar according to some mythological text is one of those four sacred places in India where the elixir of immorality accidentally spilled from heaven. It is also famous for the Kumb Mela celebrated here once in every three years. Haridwar is also surrounded by similar places of great religious significance. It is a perfect destination for tourists with religious bent of mind as in and around Haridwar, there are various famous religious shrines worth visit. It is also the perfect destination for many foreign tourists who come here to understand the Indian culture and Hindu mythology. Some famous excursions around Haridwar are:
Tourist Places to See Near Haridwar
Rishikesh
Rishikesh is considered to be one of the most sacred cities in India, next only to Haridwar. Nestled amidst the beautiful Himalayas and piously intercepted by the mystic Ganges, this place is considered to be the sacred spot where one can attain salvation. This holy city also serves as the centre of several ancient Hindu temples and many other sacred shrines. Some of the places in Rishikesh worth visiting are Bharat Temple, Neelkanth Mahadev, Laxman Temple, Laxman Jhula, Ram Jhula and Swarga-Ashram. Rishikesh is also getting attention as a centre for rafting and trekking.
Dehra Dun
The capital city of Uttarakhand, Dehradun is famous for its scenic grandeur and beautiful surroundings. Located in the Shivalik hills, merely 54 km from Haridwar, the dense forests and scenic beauty of the place are enough to captivate the tourists. The places worth visiting in Dehradun are Sahastradhara, Tapkeshawar Temple, Chandrabani, Tibetan Temple, Robber's Cave, Santala Devi Temple, Lachhiwala, Tapowan, Asan Barrage Water Sports Resort, Rajaji National Park, Dakpathar and Malsi Deer Park.
Rajaji National Park
Rajaji National Park was established in 1983 amidst the bio diverse area of the Shivalik Hill range on the Himalayan foothills. The national park's name has been dedicated to C. Rajagopalachari, fondly known as Raja Ji.
Piran Kalier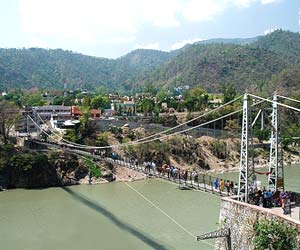 Located approximately 23 km towards the south of Haridwar, on the outskirts of Roorkee town, Piran Kalier is a place that every tourist in Haridwar must visit. It is actually the 'dargah' of Hazrat Makhdum Allauddin Ali Ahamed 'Sabir'. This place is famous for its sacred aura and mystical powers. It is visited with due regard by Hindus and Muslims alike. During the Rabeeull month of the Islamic calendar, Urs, a colorful festival, is celebrated here from the first day of sighting the moon to the sixteenth day.
Deoprayag
Approximately 95 km from Haridwar, Deoprayag is the confluence point of Alaknanda and Bhagirathi rivers, through the vast network of tributaries, to form Ganges. It is only from Deoprayag that the sacred river starts being called Ganga. At a height of 2700 feet above sea level, it is a sacred pilgrimage centre and is considered the second most divine confluence centre in India, next only to Prayag. One of the famous temples here is the Raghunath Temple, which is considered as one of the 108 most important temples in India.
Sapt Rishi Ashram
Located approximately 5 km from Har-ki-pauri, along the Haridwar-Rishikesh road, is the Sapt-Rishi Ashram. According to Hindu Mythology, Sapt Rishi Ashram is regarded as the place where the seven great sages, or Sapt-Rishis, Kashyap, Vashisht, Atri, Vishwamitra, Jamadagni, Bharadwaja and Gautam meditated. It is said that the Ganges split herself into seven streams, here only, so that the sages would not be disturbed by her flow. Thus, this place is also known as the Sapt Sarovar or Saptrishi Kund. The streams reunite further and flow as a beautiful channel called Neel Dhara while entering Haridwar.
Chila
Approximately 10 km from Haridwar, Chila is known for housing the famous Rajaji National Park. This is a popular destination for all the nature and adventure lovers. The immaculate scenic beauty and varied biodiversity of this park has been a major attraction for wildlife lovers from all over the world, since its inception.
Kanva Rishi Ashram
Another popular excursion from Haridwar is the Kanva Rishi Ashram, located at a distance of approximately 42 km. It is built on the banks of river Malini, on the way to Kotdwar. The path to this ashram is along a dense forest, providing an exciting experience for the adventure-lovers. This is a serene place, in the lap of nature, away from the hush-bush of cities.