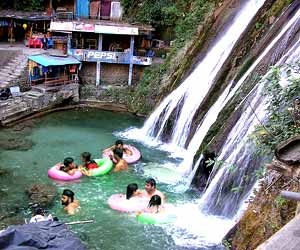 Kempty Falls are one of the most beautiful water falls in not only Uttarakhand, rather the whole of India. Enveloped by high mountain cliffs and situated at an altitude of about 4500 feet above the sea level, the falls present an awe-inspiring view as the water falls down from a high altitude and then splits into five streams. The water falling down from Kempty Falls appears to be doing a somersault before it hits the ground. Situated on the Mussoorie-Dehradun Highway, this popular tourist location attracts crowd from all over the country.
Kempty Falls was developed as a picnic spot by the British officer John Mekinan, around 1835. It is believed that, the name 'Kempty' is a derivation of the 'Camp-Tea', the tea parties that the British used to organize here. Situated on the hilly pathway of Uttarakhand, Kempty Falls are strikingly beautiful. They prove to be the perfect place for picnic or for spending a couple of hours listening to the sound of the water-falls, amidst lush green vegetation.
Generally, Kempty Falls is crowded with tourists, but after stepping across the lines along the flow of the stream, your may found a secluded rocky corral formed naturally by the streams. The sacred river, Yamuna is not too far from the falls. After 12 km, down the hill on crossing the Aglar River, the waters of Kempty meet Yamuna. Fishing here is very popular. However, permits are to be taken from Divisional Forest Officer, Mussoorie, before fishing at Kempty Falls.