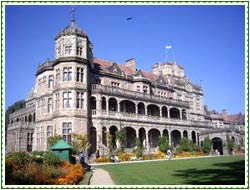 One of the most famous landmarks of Shimla, the Viceregal Lodge situated on the Observatory Hill and also known as the Rashtrapati Niwas now. The building lies at a distance of just 2 km from the Himachal State Museum. Built in 1888, this massive edifice stands surrounded by tall pine trees and once served as the residence of Viceroy Lord Dufferin. Viceregal Lodge is the only building of Shimla that occupies an entire hill by itself. Presently, it is being used by the Indian Institute of Advanced Study (IIAS).
Built in the style of the mansions of barons in Scotland, the monument was designed by the architect of the Public Works Department of the colonial government, known as Henry Irvine. The entrance opening to South leads one to the reception hall, which stands adorned by a splendid fireplace and a grand spiraling staircase. The building has six stories and it is said that all the bricks used for construction of the building were brought here on mules.
The teak paneled gallery of the Viceregal Lodge leads to the state drawing room, ballroom and the wood-paneled dining room that displays the coats of arms of the former Governor-Generals and Viceroys. The lower levels of the house open into the sprawling lawns, while upper floors offer panoramic views of snow-capped mountains and bewitching sunsets and sunrises.
Even in 1888, Viceregal Lodge had electric lights and an indoor tennis court along with other important amenities, such as enormous kitchens, wine cellar, laundry, hot and cold running water in bathrooms as well as boilers for central heating. Lavish parties were organized by the Viceroy, during that time, to entertain the royal princes and nawabs.