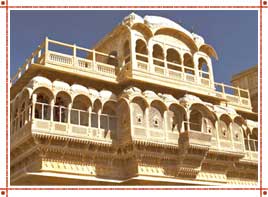 The city of Jaisalmer is named after Rawal Jaisal, a Bhatti Rajput ruler. He founded the city in 1156. A local hermit advised him to set up his new residence on the Tricut Hills, abandoning the old fort at Luderwa. During the medieval times, Jaisalmer served as the main trade route linking India to Egypt, Arabia, Persia, Africa and the West. The 13th century saw the Jaisalmer fort being besieged for 9 years by the emperor of Delhi, Ala-ud-din Khilji. When the defeat of the fort seemed impending, the women folk committed Jauhar (self immolation).
Read on this Jaisalmer city guide to get more information about the city:
The battle with Ala-ud-din Khilji resulted in the death of Duda, son of Jaitasimha and a Bhatti hero. Jaisalmer continued to be ruled by the descendants of Duda afterwards. The year 1541 saw another battle in Jaisalmer, with Mughal Emperor Himayun. Later Sabala Simha ruled Jaisalmer under the patronage of Mughal Emperor Shahajahan. He earned this right as a reward for battle distinctions in Peshawar. During the British rule, the state of Jaisalmer was the last to sign the Instrument of Agreement with the British.
The city of Jaisalmer in Rajasthan, India is divided into two parts - the old city and the new city. Once surrounded by a now battered wall, the old city has seen ages coming and going on. Amongst the many attractions of the city, the main one is Jaisalmer fort. Built in the 12th century, this fort provides a magnificent view of the golden desert below. The other attractions include massive havelis built by wealthy merchants of Jaisalmer. Also, a desert safari of the city, providing a glimpse of sand dunes, will leave you with a sight forever etched in your memory.
Withstanding the harsh climate and battering winds of the desert, the city of Jaisalmer has kept its age-old charm. Jaisalmer travel and tourism will take you back to the royal bygone era of the once princely state. The age-old traditions and culture of the city makes it a unique experience. This desert city weaves magic on you, leaving you speechless and mesmerized. The hostile terrain of the city fades in front of the warmth and hospitality of its people.