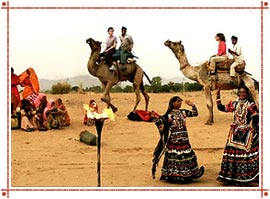 The climate of Rajasthan is generally hot and dry. However, the climate of Rajasthan can be divided into four seasons, namely summers, winters, monsoon and post-monsoon. Read on to further explore Rajasthan Climatic Conditions:
Summer
The hottest season of Rajasthan, summer, extends from April to June. The temperature in this season ranges from 32° C to 45° C. The only place in Rajasthan that is a little cool in summers is the hill station, Mt Abu. However, the nights in Rajasthan are pretty cool, with the night temperature falling considerably.
Winters
Extending from December to March is the winter season. The coldest month of the season is January. The temperature ranges from 10° C to 27° C. However, there may be considerable difference in the maximum and minimum temperatures.
Monsoon
During the period of July to September, lies the monsoon. The temperature ranges from 35° C to 40° C. The state receives approximately 90% of its annual rainfall in this season only. It is the most humid season in Rajasthan.
Post Monsoon
From October to November is the post monsoon season. The average maximum temperature ranges between 33° C to 38° C, and the minimum is between 18° C and 20° C.