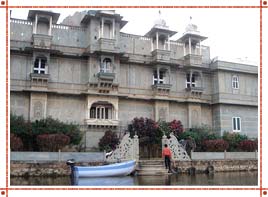 Albeit a small town in Rajasthan, Dungarpur attracts a sizable number of tourists. The town is situated in the south of Rajasthan. The legend has it that Dungarpur once used to be a Bhil Pal or the village of Dungaria, a Bhil chief. It is from him that the city got its name. It is believed that Rawal Veer Singh assassinated Dungaria and founded the city of Dungarpur (the City of Hills) in 1282. Dungarpur, once, used to be a major territory of the Vagad region with Vatpadrak (present Baroda) as its capital.
Read on this Dungarpur city guide to explore the town further:
The city used to be ruled by a splinter group of the Sisodias (ruling dynasty of Udaipur), estranged from the main branch in the 12th century. In 1818, the East India Company took over Dungarpur. Located at the foothills of the Aravalli range, Dungarpur in Rajasthan, India consists of a mesmerizing landscape. From the wild and rugged terrain in the northeast to fertile plains of in the southwest, the city has a diverse topography. Further enhancing the scenic beauty of the city, are two rivers, River Mahi and the River Som flowing through it.
The landscape of Dungarpur is covered with teak, mahua, mango and khajur trees. Dungarpur travel and tourism is also noted for the wide variety of wildlife present in the town. Jackal, jungle cat, Indian fox, hyena, black-faced monkey, porcupine, common mongoose can be seen roaming around the hills. Along with that, you may also get to see a number of bird species including partridges, peafowl, quails, cuckoos, eagles, vultures, etc. The beautiful palaces, noble residences, etc of the town display its rich architecture. Even the style of architecture is unique, dating back to the rule of Maharawal Shiv Singh (1730-1785 AD). Both in terms of natural beauty as well as architecture, Dungarpur is a city worth seeing, while on a tour of Rajasthan.