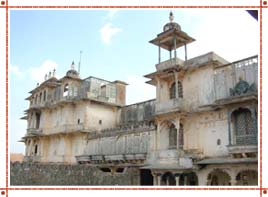 Given below is a list of the main places that should be included in a Dungarpur, Rajasthan sightseeing tour:
Juna Mahal
One of the main tourist attractions of Dungarpur is the Juna Mahal. It is a seven-storied structure that resembles a fortress, dating back to the 13th century. Crenulated walls, towers, narrow access ways and passages were built in this fortress to impede the enemy. Adorning the interiors of the Mahal are beautiful frescoes, miniature paintings and exquisite glass and mirror work. The royal family of Dungarpur still resides inside the palace.
Udai Bilas Palace
Maharwal Udai Singh II built this palace to serve as the royal residence. The palace, a magnificent example of Rajput architecture, is adorned with sculpted pillars and panels, balconies and spectacular arches
Gaib Sagar Lake
The famous places to see in Dungarpur include the Gaib Sagar Lake. Set amongst scenic environs, the lake is a bird watcher's paradise. The picturesque surroundings of the lake house numerous species of birds. Also situated along the lake is a famous Shrinathji temple. The temple complex has a number of beautifully built shrines inside it, with one being the main temple. One of them is the Vijay Raj Rajeshwar Temple that is dedicated to Lord Shiva.
Rajmata Devendra Kunwar State Museum and Cultural Centre
Rajmata Devendra Kunwar State Museum and Cultural Centre, Dungarpur" was opened to the general public in the year 1988. The museum has a beautifully sculpture gallery that brings to fore the history of Vagad Pradesh, which spreads over present day Dungarpur, Banswara and Kherwara