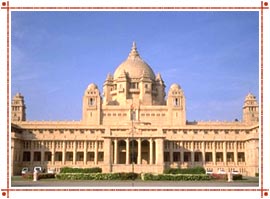 Jodhpur is the second largest city of Rajasthan, after Jaipur. Rao Jodha, a chief of Rathore clan, founded the city in 1459. Also known as the "Sun City", Jodhpur has quite a history attached to it. The Rathores, after being driven away from Kanauj by the Afghans, settled in the area around Pali city, near Jodhpur. Thereafter an alliance was arranged between Rathore Siahaji and the sister of a local prince. This helped the Rathores in establishing and strengthening themselves in this region. Their might grew by the day and they even drove out the Pratiharas of Mandore, 9 km from Jodhpur.
Read on this Jodhpur city guide further to know more about the history of the city:
As time passed, the Rathores felt the need to set up a more safe and secure capital. This need led to the foundation of Mehrangarh fort and thus, the city of Jodhpur in Rajasthan, India. Under the rule of maharaja Umed Singh, the city further prospered and developed into a fine modern city. During the time of the British, Jodhpur earned the designation of the largest state in Rajputana. The city, along with its dominant Marwari (the merchants) population flourished endlessly. When India gained independence in 1947, Jodhpur merged into the union of India.
The city now stands divided into two parts, the old city and the new city. Surrounded by a 10 km long wall, the old city has 8 gates leading out of it. Beyond the walled old city, lies the new city of Jodhpur. The main attraction of the city is the massive Mehrangarh fort, one of the largest forts in India. Housing numerous places, galleries, a temple and a museum inside it, the fort reflects the talent of the Jodhpuri artisans. Apart from that, various other attractions like a number of lakes, gardens, museums, temples, etc make Jodhpur travel and tourism a truly fulfilling experience.