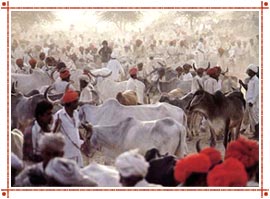 The Nagaur Fair of Rajasthan is mainly known for cattle trading, which takes place extensively at the fair. Lasting for eight days, the Rajasthan Nagaur Cattle Fair is organized in the Hindu month of Magha (Jan-Feb). The venue of the fair is Nagaur, one of the most scenic Rajput towns. It is the second largest cattle fair of Rajasthan. As many as 70,000 (approximately) bullocks, camels and horses are traded every year in the Nagaur fair.
To make them attractive, the animals are adorned with various accessories in an extravagant manner. At the same time, the owners, themselves, are seen showing off their colorful turbans and long moustaches. Apart from the business of cattle trading, there are a number of other attractions at the fair. At the Nagaur fair, the biggest Mirchi (red chili) Bazaar (market) of India is organized. Other items traded at the fair include wooden items, iron-crafts, camel leather accessories, etc.
The Nagaur Fair also offers a lot to those wanting to have some fun. Sports organized at the fair include tug-of-war, camel races, bullock races and cockfights. Other means of entertainment are jugglers, puppeteers, storytellers, and campfire evenings, adding to the excitement of the tourists. Echoing through the peace and serenity of the desert, the folk music of the Jodhpur lends further serenity to the mind.