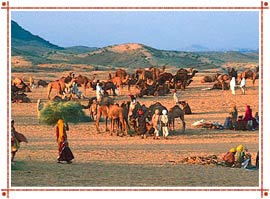 The Thar Desert of Rajasthan is situated partly in India and partly in Pakistan. Bordering the desert on four sides are, Indus plains to the west, Aravalli Range to the southeast, Rann of Kutch to the south, and Punjab plains to the north and northeast. Also known as the "Great Indian Desert", Thar covers an area of approximately 77,000 square miles (200,000 square km). Thar constitutes one of the five major physical divisions of India, the other being Himalayas, Northern Plains, Central Plateau and the Eastern and Western Coastal Plains. It occupies the western and northwestern parts of the state of Rajasthan. The other states of India into which the Thar Desert stretches are Gujarat, Punjab and Haryana.
High and low sand dunes, sandy plains, low barren hills, etc characterize the landscape of the desert. Most of the sand dunes are forever in motion and keep on changing their shapes and sizes. The older dunes, however, have stabilized to quite an extent and may rise to a height of almost 500 feet (150 m). Thar Desert is also dotted with playas (saline lakes), locally known as dhands, which are scattered throughout the region. The desert tract receives low and erratic rainfall annually, ranging from about 4 inches (100 mm) or less in the west to about 20 inches (500 mm) in the east. The maximum rainfall is received during the period of July to September.
Thar Desert supports vegetation consisting of mainly stunted scrub and a few sporadic trees. Gum arabic acacia and euphorbia on the hills and khajri (Prosopis cineraria) tree in the plains are some other vegetation in the desert. Black buck and chinkara (gazelle), amongst animals and francolin, quail and great bustard, amongst birds can be seen inhabiting this region. Sand grouse, ducks, and geese are the common migratory birds to the area. A tour of the Rajasthan Thar Desert of India takes you on a brilliant ride of the golden hues. The camel rides as well as the beautiful sunsets of the desert enchant both your mind as well as your soul. Don't forget to include this magnificent desert on your tour to Rajasthan. You will definitely love every part of your trip to this marvelous and outstanding destination.