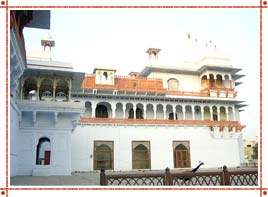 Kota is a part of the southeastern region of Rajasthan, known as Hadoti. Rao Deva, Hada chief, founded Bundi and Hadoti in the 12th century. Later Mughal Emperor Shahjahan, in the early 17th century AD, made Madho Singh, the son of Rao Ratan of Bundi, the ruler of Kota. Thus, Kota received the status of an independent state. Since that time, Kota has been a witness of the Rajput valor, culture and traditions. Read on this Kota city guide to explore more information about the city:
Situated on the banks of Chambal River, Kota is one of the important industrial centers of Rajasthan. Kota in Rajasthan, India has Asia's largest fertilizer plant, precision instrument unit and atomic power station nearby. Chemicals, fertilizers, synthetic fibers, tyrecord, sophisticated instruments, have taken the city in the mainstream. Withstanding these material qualities, it is mainly the beautiful and picturesque locations that form the basis of Kota travel and Tourism. Massive forts, magnificent palaces, charming waterways, along with the exotic wildlife and delicate fresco paintings surely capture the heart of the tourists.
One of the most impressive features of Kota is its imposing fort overlooking the modern Chambal Valley Project. Numerous dams, namely Kota Barrage, Gandhi Sagar, Rana Pratap Sagar, Jawahar Sagar, etc dot the city. There is also an old palace facing the Kota Barrage, which dates back to the time of the Hada rule over Hadoti. Other monuments in the city, standing as a witness of the bygone era, are the Brij Raj Bhawan Palace, Jag Mandir and island Palace, impressive havelis, royal cenotaphs, etc.