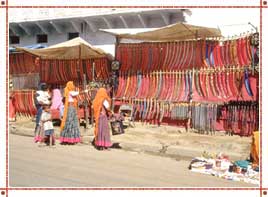 Kota shopping destinations are best known for their rich arts and crafts. The most famous and sought after shopping item in Kota are the Kota Doria saris. Kota saris are finely weaved with cotton and silk threads. The traditional weaving method is being used even today to make the saris. Amongst the various types of Kota saris, the more popular ones are hand-woven chequered and printed Kota saris.
Read on this Kota shopping guide further to know about the other popular shopping items as well as the markets of Kota:
You can also buy some beautiful potteries and stone crafts in Kota. Specifically the stone crafts serve as the perfect souvenirs and gift items to take back home with you. Apart from these, another well-known handicraft of Kota consists of the miniature paintings. They can serve as gifts for others as well as decoration items for your home.
You will not find huge shopping malls or very big markets in the city. The main shopping places in Kota, Rajasthan are the local bazaars. The major shops where you can buy are the government emporia and some prominent private departmental stores. However, do remember to bargain a little if you are buying something from the local vendors.