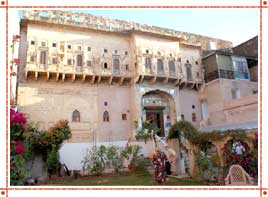 The city of Mandawa, founded in the mid 18th century, was once a town inhabited by the rich merchant families. The wealthy and dominant merchants constructed massive havelis, adorned with beautiful wall paintings, for the purpose of their residence. However, with time, the merchants moved on and migrated to other areas, leaving the beautiful havelis in the shadows of anonymity. Still, the magnificence of these havelis did not diminish and now they have become a major tourist attraction of the city. Read on this Mandawa city guide to get further information about this city:
The beautiful wall paintings that decorate the havelis of Mandawa in Rajasthan, India, have seen the themes changing from time to time. In the earlier days, mythology dominated the themes of the frescoes, displaying local legends, animals, portraits, hunting and wrestling scenes, etc. 19th century saw the themes being changed to reflect the British (Raj) influence on the Indian culture. The traditional subjects were exchanged for cars, trains, balloons, telephones, gramophones, English men in hunting attires and portraits of the haveli owners immaculately dressed, etc.
Apart from the havelis, another major feature of Manawa is its massive fort, now converted into a heritage hotel. The archway of the fort is painted with fascinating paintings, depicting Lord Krishna and his cowherds. Displaying architectural brilliance, each wing of the fort is set up with a different theme. Exquisite wall paintings and amazing mirror work adorn the rooms of the fort. Mandawa travel and tourism will take you on a ride of architectural brilliance and artistic genius. Even if you do not have a penchant for art, you will still marvel at the beauty and splendor of the various monuments in the city.