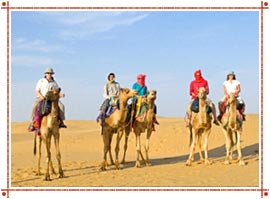 If you are planning to visit Rajasthan, don't forget to include a safari tour of Rajasthan in your itinerary. Rajasthan safari provides a peek into the real Rajasthan. There are different means of taking a desert safari. Read on to know further about the various forms of Rajasthan adventure safaris:
Camel Safari
The most common form of desert safari is the Camel safari. A camel safari will take you to the far and distant villages of Rajasthan, giving you a peek into the rural Rajasthan. A camel safari also takes you closer to nature itself. You spend the evenings next to a bonfire. The night is spent sleeping in the tent, beneath the starry sky. Regarding comfort and security in the camel safari, the camel-carts for the desert safari are fully equipped to handle almost every situation. Camel safari is also arranged by Rajasthan Tourism Development Corporation (RTDC), on request from Delhi and Jaipur.
Horse safari
A horse safari tour of Rajasthan is quite popular with the tourists. Royal cenotaphs, magnificent forts, fascinating temples, picturesque locales, etc all add to the appeal of a Rajasthan horse safari.
Jeep Safari
A popular form of desert safari is the Jeep safari. The jeep safari takes you through the fascinating countryside of the state of Rajasthan. A visit to the forts, palaces and other monuments during the jeep safari takes you back to the bygone era of the state. On an average, you spend 5-6 hrs on the drive daily, covering approximately 150 km. The most popular jeep safari is to the Bishnoi village.
Elephant Safari
Elephant safaris are organized between the cities of Jaipur and Pushkar. Those looking out for some extra adventure should definitely try out the elephant safari. You will certainly enjoy the ride on top of these bulky animals.
Motorcycle and Bicycle Safaris
Almost in each and every part of Rajasthan, you can go on a motorcycle and bicycle safari. Specially, the city of Udaipur provides the most conducive conditions for undertaking these safaris. A Motorcycle safari of Rajasthan can last anywhere from a week to a month and is usually done on the Royal Enfield 350cc bikes.