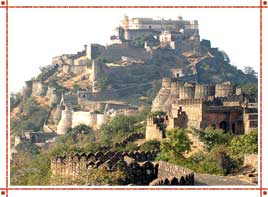 Kumbhalgarh is the second most important bastion in the Mewar region, after Chittorgarh. Where it now stands, was once the site of an ancient citadel dating back to the 2nd century AD. That citadel belonged to a Jain descendant of India's Mauryan emperors. Rana Kumbha founded the fort of Kumbhalgarh in the 15th century. Kumbhalgarh in Rajasthan, India is one of the few forts in India that remain unconquered till date. One of the reasons behind this is the inaccessibility and hostile topography of the fort. Maharana Fateh Singh got the fort renovated in the 19th century.
Read on this Kumbhalgarh city guide to know more about this invincible fortress:
The fort provided refuge to the rulers of Mewar in the times of conflict, especially Udai, the baby king of Mewar. It is also the birthplace of Maharana Pratap, a legendary King of Mewar. The fort was made in such a way to protect it against the enemy forces. Encircling the fort is a 36 km long wall, with width thick enough to accommodate eight horses abreast. A self-sufficient fort, Kumbhalgarh was built with almost everything within its premises, with a view to endure a long siege. A number of palaces as well as temples inside the fort add to its appeal. Only once in its lifetime, the fort fell to the combined Mughal and Amber armies, that to because of a scarcity of drinking water.
Apart from this magnificent fort, Kumbhalgarh travel and tourism is known for a number of other attractions also. The Kumbhalgarh wildlife sanctuary is the perfect place for the nature lovers. It is home to some of the exotic species of animals as well as birds. Then there is the Muchchal Mahavir temple, dedicated to Lord Mahavira and Haldighati, the venue of a famous historical battle. One thing is for sure, that you will not be disappointed with a visit to this fortress city.