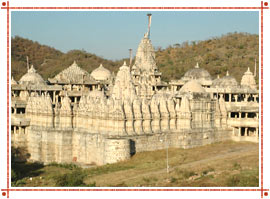 Temples of Rajasthan are known for their great architectural magnificence. The temples of Rajasthan reflect the artistic excellence of the sculptors of yester years. Some of the prominent temples of Rajasthan are Eklingiji temple, Dilwara Temples, Ranakpur Jain temples and the Mahavira Temple. The most common feature of the temples of Rajasthan, located in the western part, is single sikhara and intricately carved outer chamber known as mandap.
Brahma Temple Pushkar
Lying beyond the Nagaparvat and Anasagar Lake in Pushkar is the Brahma temple of Rajasthan, India. A popular pilgrimage of Hindus, the Brahma temple, Pushkar is the only temple of Lord Brahma in India. The legend is that Lord Brahma performed a Yagna here, along with all the gods and goddesses.
Dilwara Jain Temples Mount Abu
Dilwara Jain temples, Mount Abu are sacred pilgrimage place of the Jains. They are situated approximately 2.5 km from Mt. Abu. There are five Dilwara Jain temples in Rajasthan, all a fine example of exquisite temple architecture. In each and every temple, marble has been used in an amazing way. The temples are a mix of simplicity as well as exquisiteness.
Eklingji Temple Udaipur
The Eklingji temple, Rajasthan is devoted to Lord Shiva, the tutelary deity of the former Mewar rulers. It is situated approximately 24 km to the north of Udaipur. Eklingji Shiva temple Udaipur is a huge complex consisting of 108 temples. Enclosing the temple are high walls with bathing terraces leading down to the water. Filling the temple with fragrance all the time are the lighted incense materials
Ranakpur Jain Temples
Ranakpur Jain temples are situated in the mountain ranges of Pali district. They are approximately 23 km from the Phalna railway station. Dating back to the 15th century, the Jain temples of Ranakpur were constructed by Rana Kumbha. Enclosing the temples from all the sides is a strong wall. The entire temple area is enclosed within a wall. The main temple is the Chamukha temple, dedicated to the Tirthankara Rishabdeoji.
Karni Mata Temple Deshnok
The Karni Mata temple, Deshnok is situated 30 km from Bikaner. The temple is dedicated to an early 15th century mystic, considered to be a reincarnation of Goddess Durga. This temple is quite famous for a large number of brown rats running around the temple complex fearlessly.
Shrinathji Temple Nathdwara
The Shrinathji temple, Nathdwara is dedicated to Lord Krishna. It is located in Nathdwara, approximately 48km to the north of Udaipur. The Nathdwara Shrinathji temple of Rajasthan houses a statue of Lord Krishna, sculpted from a single piece of black marble.