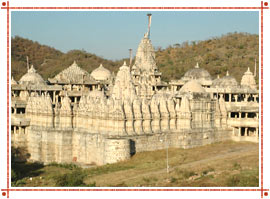 Ranakpur Jain temples are situated in the mountain ranges of Pali district. They are approximately 23 km from the Phalna railway station. Dating back to the 15th century, the Jain temples of Ranakpur were constructed by Rana Kumbha. Enclosing the temples from all the sides is a strong wall. The entire temple area is enclosed within a wall. The main temple is the Chamukha temple, dedicated to the Tirthankara Rishabdeoji. This temple has contains a four-faced statue of Rishabdeoji in its inner sanctum.
Also, enclosed in the temples are four subsidiary shrines, 24 pillared-halls and 8 domes supported by over 400 columns. The most fascinating feature of the temples is its columns. There are 1,444 intricately carved columns, of which not even two are the same. The shrine also has a corridor around it, containing niches for tirthankara images, each having its own spire.
In the temple, are images of Adinath (north west), Parshvanath (north east), Ajitnath (south-east) and Lord Mahavir Swami (south west). The assembly hall contains two big bells weighing around 108kg. Also, at a height of 45 feet, there are artistically carved images of nymphs playing the flute in various dance postures. Facing the main temple is a small shrine dedicated to Prashvanath. In the inner sanctum of this shrine, is a black image of the Prashvanath.