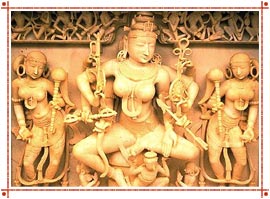 Dilwara Jain temples, Mount Abu are sacred pilgrimage place of the Jains. They are situated approximately 2.5 km from Mt. Abu. There are five Dilwara Jain temples in Rajasthan, all a fine example of exquisite temple architecture. In each and every temple, marble has been used in an amazing way. The temples are a mix of simplicity as well as exquisiteness. Surrounding the temples are mango trees and wooded hills, lending a magnificent view to the temples as a whole.
Mt. Abu Dilwara temples do not have equal in terms of architectural beauty. Right from the doorways to the pillars to the ceilings to the panels, each one of them has been carved with great detail. All the five temples have their own unique identity. The names of the temples are:
Vimal Vasahi (Shri Adi Nathji temple)
Luna Vasahi (Shri Nemi Nathji temple)
Pithalhar (Shri Rishabh Deoji temple)
Khartar Vasahi (Shri Parshav Nathji temple)
Mahaveer Swami (Shri Mahaveer Swamiji temple)
Vimal Vasahi and Luna Vasahi temple are the most popular ones amongst the five temples.