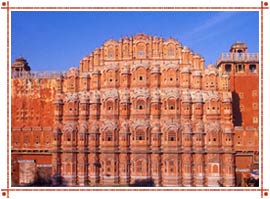 The 'Hawa Mahal' or the Palace of Wind is one of the main landmarks of Jaipur, the capital of Rajasthan. The Hawa Mahal is a five storey building of remarkable architecture and a spectacular example of the Rajput style of architecture made of red and pink sand stone, beautifully outlined with white borders and motif's done (painted) with quick lime. You can get a spectacular view of the Jaipur city from the Hawa Mahal. It is believed that the Hawa Mahal was originally conceived with the aim of enabling ladies of the royal household to watch the everyday life and royal processions in the city without being seen.
While looking at the Hawa Mahal from the road below, the structure looks more like a delicate screen than a palace. This amazing five-story, pyramidal structure has 953 small casements. Each one of them has tiny lattice worked (Jali) windows (pink in color), small balconies and arched roofs with hanging cornices, elegantly modeled, engraved and carved. These small windows were meant for air circulation during the summers, so that the palace remained cool. It is interesting to note that the pyramidal outline is even throughout and repetition of motifs has been done to enhance its beauty.
The main entrance to the Hawa Mahal is from the City Palace side, through a door that opens into a spacious courtyard. This courtyard has a double storeyed building on three sides. A small archeological museum is housed here. There are only the ramps to reach the upper floors of the Hawa Mahal, and not the usual stairs. The best time to explore the beauty of the Hawa Mahal is sunrise when sunlight pierces the latticed windows giving it a wonderful glow.
How to Reach Hawa Mahal Jaipur
By Air
Jaipur is connected to Delhi, Mumbai, Udaipur, Jodhpur, Aurangabad, Kolkata and Varanasi by domestic flights.
By Rail
Jaipur is well connected to major cities of India by rail. The train service to Jaipur is available from all the major parts of the country.
By Road
Jaipur can be accessed from all the major places in Rajasthan, Gujarat, Delhi and Mumbai by bus.