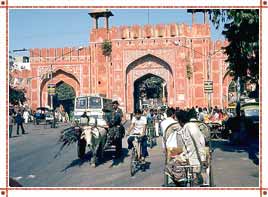 There are a number of excursions around Jaipur, Rajasthan. Some of the famous Jaipur excursions are mentioned below:
Sanganer
Located 16 km from Jaipur, Sanganer is famous for its beautiful Jain temples. The most famous temple is the Shri Digambar Jain temple. This temple has a stone shrine with three pinnacles. There is an idol of Parshwanath with 7 serpent hoods in the center. However, the main idol of Adinathji is enshrined in the temple behind this. Sanganer is also famous for its crafts and hand-printed textiles.
Bagru
Situated on the Ajmer road, Bagru is approximately 30 km from Jaipur. It is mainly known for its Bagru prints. In the Bagru prints, a wooden block is carved with the required design. This carved block is dipped in color and pressed on the cloth to transfer the design. Vegetable dyes are used for the purpose.
Samod
Jaipur excursion tour must include a visit to the Samod fort. It is located approximately 40 km from the city of Jaipur. The fort once housed the Nathawat family that served as the Prime Ministers of the Jaipur Royal Court. The road to the fort passes through a village, giving a peek into the rural life of Rajasthan. On the inside, the fort gives a reflection of medieval architecture. Exquisite marble work, antiques and colorful art adorn the inside of the fort. Samod Palace also has a Durbar hall embellished with glass and minakari work.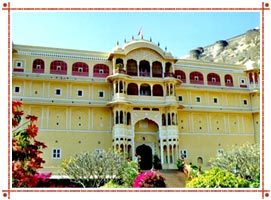 Abhaneri
Approximately 95 km from Jaipur, on the Jaipur-Agra road, is the village of Abhaneri. The village is famous for its marvelous baoris (step wells) and Harshat Mata Temple. There is a legend associated with the village. It is believed that the village got its name from Goddess Harshat Mata. The Mata, depicted in a joyous mood, is believed to spread brightness or "abha" all around. Thus, the name Abhaneri (originally Abha Nagri).
Shekhawati
In the royal times, the wealthy merchants used to get huge mansions (havelis) constructed as their residence. Shekhawati is mainly known for its painted Havelis. The word Shekhawati means the garden of Shekha, named after its ruler Rao Shekha. Also called the 'open art gallery of Rajasthan', Shekhawati has Havelis rich in artistic tradition. The havelis are ornamented with various forms of fine art. Especially famous are their frescoes that depict mythological themes and themes of huge animals.