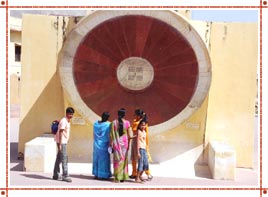 Jantar Mantar of Jaipur is one of the five astronomical observatories built by Maharaja Sawai Jai Singh II in the year 1728. There is a story behind this observatory also. The Maharaja, ruler of Ajmer and founder of Jaipur, was a scholarly man interested in the workings of the celestial bodies. Emperor Muhammad Shah, once, asked him to make corrections in the astronomical tables and to confirm the already available planetary positions data. For the purpose, he built two observatories, one at Delhi (in 1724) and one at Jaipur (in 1724). It took him approximately 7 years to finish the task assigned by Muhammad Shah.
It is said that Sawai Jai Singh II sent his envoys to various parts of the world to collect manuals, astronomical tables and data on the advances made in the fields of astronomy. Sawai Jai Singh II got so much impressed with the La Hire's "Tables" that he ordered that the Jaipur observatory would be built according to the data available in the table manual. After the Jaipur Jantar Mantar was completed, it was discovered that it was even more accurate than the table. The observatory houses the Jaiprakash Yantra, Samrat Yantra, Ram Yantra and the Composite instrument, which comprises of a sundial and a massive hemisphere.
Located near the gate of the City Palace, Jantar Mantar of Jaipur, Rajasthan is the biggest stone observatory in the world, still in a running condition. Make sure to visit this observatory while on a trip to Jaipur.