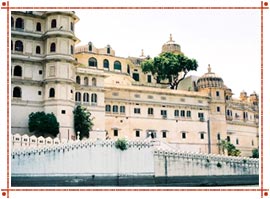 Founded by Maharana Udai Singh II in 1568, Udaipur has many legends attached to it. Udai Singh founded this city after Mughal Emperor Akbar besieged his fortress, Chittorgarh. It is believed that a holy man, meditating on the hill near Pichola Lake, advised Udai Singh to set up his capital here. After his death in 1572, Udai Singh was succeeded by Maharana Pratap, the most admired Rajput hero. As you read on this Udaipur city guide further, you will get to know more about this beautiful city.
During Maharana Pratap's reign, Udaipur saw a battle being fought with the Mughals at Haldighati in 1576. In the years that followed, there were numerous invasions and battles fought by Mewar. All this came to rest in 19th century with the help of British intervention. A treaty was signed to protect Udaipur from the foreign invaders. After becoming independent, Udaipur merged itself within the union of India.
Also known as the Venice of the east, the city Udaipur in Rajasthan, India mesmerizes the tourists with its charm and beauty. Because of many lakes Udaipur, it is sometimes also called the city of lakes. Udaipur travel and tourism will bring you across a number of palaces, rich in architectural beauty. The Lake Palace on Jag Niwas Island in the middle of Pichola Lake, along with the City Palace and the Jag Niwas are some of the famous palaces of the city. Udaipur is also known for its exquisite arts, craft and miniature paintings. Then there is also the famous Shilpgram festival attracting the tourists to Udaipur.