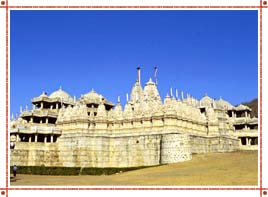 The township of Ranakpur is situated approximately 96 km from Udaipur. Enclosed within a wall, this complex houses exquisitely carved Jain temples in Amber stone. Built during the rule of Rana Kumbha, these Jain temples date back to the 15th century. Ranakpur, India travel and tourism holds a special reverence for the Jains, as it is one of the five Jain pilgrimages. The main temple of this complex is the Chaumukha Temple (four faced temple), dedicated to Adinathji, the first Jain tirthankara. Spread over 48,000 sq. feet, it houses a four-faced statue of the tirthankara.
The Chaumukha temple is an architectural wonder, having 29 halls and 1,444 pillars, all distinctly carved with no two being the same. A corridor around the temple houses mandaps (porticoes) that are carved with the images of 24 tirthankaras. Every mandap has a shikhar (spire), adorned with little bells on the top. Throughout the day, the temple complex echoes with celestial music created by the light wind breezing through its corridors. The temple has four small shrines, rising in three storeys. The shrines have 80 spires supported by 420 pillars.
Read on this Ranakpur city guide to further explore this township:
The complex has two other temples also, dedicated to Parasvanath and Neminath, facing the main temple. These temples are carved with exquisite figures, somewhat similar to the Khujarao sculptures. Near to Ranakpur temples in Rajasthan is another famous temple, the Sun Temple. It is dedicated to Surya (the Sun God), the master of all the planets. As per the Hindu mythology, Surya is considered to be the God of prosperity and a shining destiny in this world. The temple has polygonal walls, adorned with the carvings of warriors, horses and solar deities riding chariots.