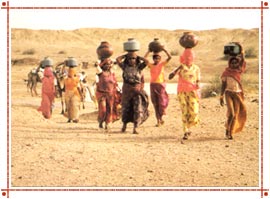 Rajasthan travel tips are being provided to assist you while you are in Rajasthan. These safety guidelines for Rajasthan, India will prove quite useful to you if you are planning to visit this place. Here are some common dos and Don'ts for Rajasthan travel:
Don't forget to lock your hotel room before going outside for the purpose of sightseeing or shopping.
Never take a lift from a person you don't know. Women and those who are roaming around after dark should specially follow this advice.
Whenever you go out of your hotel room, do not carry excess cash with you. Also, keep your jewelry and other expensive items locked in your hotel room, along with your passport and return tickets.
Don't allow any unknown person to enter into your hotel room.
Always prefer to take taxis and auto rickshaws from prepaid booths or kiosks. In the other case, negotiate on the fare beforehand only.
Don't check into a hotel or guesthouse suggested by the taxi or auto rickshaw driver.
Do not consume drinks or eatables offered any an unknown person.
Go for shopping only in reputed or respectable shops.
Exchange your currency only from authorized money exchangers and don't forget to take a receipt.
It is advisable not to wear too revealing or scanty clothing.
Don't stay out after it gets too dark.