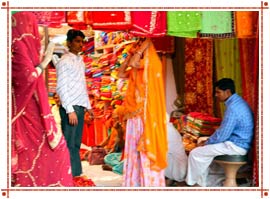 Rajasthan is like a shoppers paradise. You can find a range of items in Rajasthan right from handicrafts to paintings to gems and jewelry. Shopping in Rajasthan is like a treat for the shoppers. There is something in the Rajasthan, India shopping places for each and every person. Read this Rajasthan shopping guide further to know more about shopping attractions in Rajasthan:
Jewelry
Rajasthan is the home place of some of the most amazing hand crafted jewelry. Also, the hand-cut gems industry has one of the world's biggest centers in Rajasthan. This state provides India with some important precious and semi precious stones. Other famous works of Rajasthan include Silver smithy, Lac works, Kundan work, Minakari work, Enameled gold jewellery, etc.
Paintings
Some of the most expressive, bright and amazing paintings can be found in Rajasthan. The most famous Rajasthani paintings include:
Miniature Art
Phads & Pichwais
Folk Painting
Thought the use of synthetic colors is rampant, the traditional painters still use mineral and vegetable dyes.
Leatherwear
The popular leatherwear of Rajasthan includes footwear (especially jutis/mojris), musical instruments, etc. The hides of dead animals are used (beaten, tanned and dyed) for the purpose. The places famous for leatherwear are Jaipur, Jodhpur, Barmer, Jaisalmer, Bikaner and so on.
Stone Carving
The stone carving work in Rajasthan includes magnificent idols, panels, figurines, balconies, etc. the material used ranges from white marble to green Kota, to white and gray soapstone.
Textile
The most famous types of textiles, along with the places where they are mainly found are given below:
Hand-block prints (Sanganer, Bagru)
Tie and dye (Bandhej, Bandani, Batik, Mothra, Ekdali, Shikari, Cheent)
Bandhej (Jodhpur, Sikar, Jaisalmer, Barmer, Pali, Udaipur, Jaipur)
Lehriya (Udaipur)
Blue Pottery
Maharaja Ram Singh introduced this Persian art form in Rajasthan. it is an art form in which a distinctive material like the ground quartz stone is used. Even the color scheme is unique, consisting of blue (oxide of cobalt), green (oxide of copper) and the external white.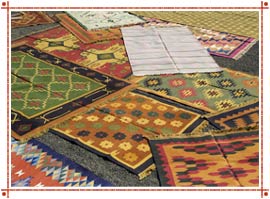 Dhurries And Carpets
Dhurries (simple rugs) and carpets of Rajasthan are quite famous. They are made on looms in villages. A variety of patterns are used, like floral, geometric, etc. some of the known places for this are Bikaner, Jaisalmer, Tonk, etc.
Terracotta
Terracotta represents an old craft in Rajasthan. The image is sculpted on a semi solid paste of dust, mud. Later it is dried and polished in color. Some of the famous places, along with their specialty are:
Alwar (paper thin kagji pottery).
Bikaner (painted pottery tinted with lac colors)
Jaisalmer (stone wares)
Molela, Udaipur (wall plaques with images of Heroes or the religious ones)
Wooden Artifacts
Another popular shopping attraction of Rajasthan is wooden artifacts. There is use of wood in Rajasthan to make everything, from furniture to artifacts. The wooden artifacts include chairs with painted backs, tables with marble-top, camel-hide stools, cabinets with carvings and so on.