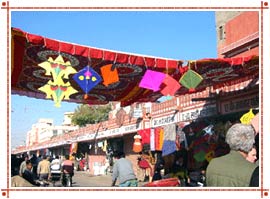 A number of fairs and festivals in Rajasthan give color to this otherwise dull state. Some of the festivals are those that are celebrated throughout India, while others are restricted to Rajasthan only. However, not all the festivals constitute a holiday. Major Rajasthan holidays consist of both the national holidays as well as public holidays.
The major public holidays of Rajasthan as well as India are:
Republic Day (26th January)
Ambedkar Jayanti (14th April)
Independence Day (15th August)
Gandhi Jayanti (2nd Oct)
Given below is a list of some of the important festivals in Rajasthan, India. Also included in the list are the cities where the festivals are celebrated, along with the time of their celebration.
Camel Festival, Bikaner (January)
Kite Festival, Jaipur (14th January)
Desert Festival, Jaisalmer (January-February)
Holi, throughout Rajasthan (March)
Brij Festival, Bharatpur (March)
Mewar Festival, Udaipur (March-April)
Elephant Festival, Jaipur (March-April)
Summer Festival, Mt.Abu (June)
Teej Festival, Jaipur (July-August)
Kajli Teej Festival, Bundi (July-August)
Gangaur Festival, throughout Rajasthan (July-August)
Marwar Festival, Jodhpur (September-October)
Dussehra, throughout Rajasthan (October)
Diwali, throughout Rajasthan (October-November)