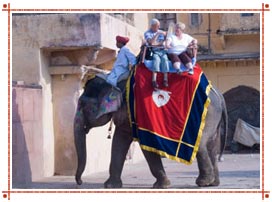 It is a very good idea to hire tourist guides in Rajasthan. This is so because almost each and every place as well as monument in Rajasthan has some kind of history attached to it. You will better appreciate as well as enjoy the places if you know the various stories as well as legends that are connected with them. Rajasthan tourist guides will be the most beneficial for the purpose. Tourist guides are easily available in Rajasthan are converse in a number of foreign languages, along with the routine English, Hindi and the regional language. These days the guides speak in French, German, Japanese, etc also.
However, you need to be a little careful while hiring the guides. Given below are some tips for handling Rajasthan guides:
Always insist on hiring guides that are registered with the government. Try to avoid the private guides as far as possible. It is also advisable to hire guides recommended by the hotel authorities.
Make sure to fix the charges in advance and always bargain a little with the tourist guides in Rajasthan.
Do not take out your too much cash or other valuable items in front of the guides.
Do not give too much tips to the guide and tip only at the end of the tour. Also, the tips should be consummate with the services provided.
Don't trust the guide too much and maintain a safe personal distance.