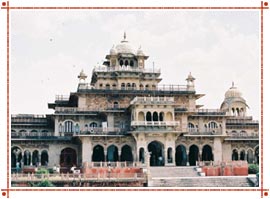 There are a number of museums that can be included in the museum tour of Rajasthan, India. Museums can be found in almost all the large and small cities of Rajasthan. Most of the museums in Rajasthan are housed in the old forts and palaces, reflecting the rich history of the state. Read on this Rajasthan museum guide to know about of some of the well-known museums of the state:
Ajmer Government Museum
Ajmer government museum is situated in the magnificent fort and palace of Mughal emperor Akbar, in the old city. The main highlights of the museum are epigraphs, sculptures, protohistoric antiquities and arms and weapons. There is a library attached to it containing rare books and historical publications.
Hawa Mahal Museum (Jaipur)
The Hawa Mahal museum is situated in the Pratap Mandir, adjoining the Hawa Mahal (Palace of Winds). The museums preserved here and displays the sculptural heritage collected from Ganeshwar, Raid, Virat Nagar, Raid, Sambhar, etc.
Virat Nagar Museum (Jaipur)
In the ancient India, during the epic period, the area around Jaipur, Alwar and Bharatpur was known as Matsayadesh. Virat Nagar was the capital of Matsayadesh. The museum contains and displays an amazing collection of excavated material like statues, old coins, potteries, seals, old coins, metallic pieces, weapons, etc.
Alwar Government Museum
Alwar government museum is situated in the old City Palace. Displayed in the museum, is a rich unique collection of brass work, pottery, stuffed animals, ivory work, arms, lac work, musical instruments, miniature paintings, Persian and Sanskrit manuscripts, etc.
Junagarh Fort Museum (Bikaner)
The halls of Ganga Mahal, added by Maharaja Gailga Singh, have been converted into a museum. Hosed in the museum is a unique collection of antique Rajput weaponry including camel guns, camel hide shields, jade handle daggers, inlaid handguns, etc, along with gold and silver howdahs, jhulas, first world war biplane, etc. Photographs and personal items of Maharaja Ganga Singh are also on display.
Ganga Golden Jubilee Museum
Located in the Lallgarh Palace, is the Ganga Golden Jubilee museum containing an array of items used and collected by Maharaja Ganga Singh and his successors. Some of them are trophies, movie projectors, cameras, old photographs, weapons, etc. there is also the Anup Library housing a rare and valuable collection of Sanskrit manuscripts.
Amer Archaeological Museum (Jaipur)
Amer, the ancient capital of Jaipur, contains the Amer Archaeological museum in its Dil-e-Aaram gardens. The museum is divided into three sections. It houses the excavated material from Bairat, Nagar, Rairh, Sambhar, etc, along with the sculptures and epigraphs collected from various sites in the erstwhile Jaipur