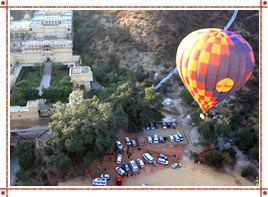 Jaipur is one of the most popular tourist destinations in not only Rajasthan, but the whole of India. Forming a part of the Golden Triangle of North India, along with Delhi and Agra, the city has been designed by a Bengali architect Vidhyadhar Bhattacharya, as per the Hindu treatise, Shilp Shastra. Tourists come here from all across the globe, to explore the rich historical past of the city and appreciate its architectural splendor. For those who are still wondering what do and see in Jaipur, the information provided below will come handy.
Fun Activities to Do in Jaipur
Indulge In Hot Air Ballooning
Jaipur and hot air ballooning? Sounds a bit surprising, doesn't it? In case you were of the opinion is that Jaipur is a place where you can only delve into the history, now is the time to change your opinion. The city is as much known for its hot air balloon rides as for its forts and palaces. As you sail over the Pink City, the beauty of the historical monuments, placid lake and the never-ending stretch of golden sand surely mesmerizes you. Almost all the hot air balloon flights in Jaipur take off from the grandiose Amber Fort area.
Explore the Rich Heritage
Jaipur and its rich heritage are renowned all over the world. The numerous forts, palaces and other monuments in the city simply take you breath away, with their magnificence. There are three majestic forts in the city, namely Amber Fort, Jaigarh Fort and Nalagarh Fort, with many impressive structures within their confines. Then, there is the beautiful City Palace, also known as Chandra Mahal, which serves as the residence of the royal family and also houses Maharaja Sawai Man Singh II Museum. The mesmerizing Lake Palace and the unique Hawa Mahal are some other monuments in Jaipur worth visiting.