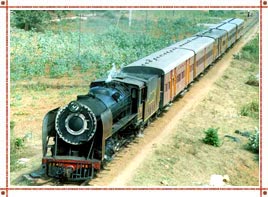 Jaipur, popularly known as the Pink City, is the capital of Rajasthan counts amongst the major tourist destinations of India. In fact, along with Delhi and Agra, the city makes up the Golden Triangle of North India. Some of the major tourist attractions of the Pink City include the Hawa Mahal, Jantar Mantar, Amber Fort, Jaigarh Fort, Birla Temple and the City Palace. Since Jaipur is easily accessible by all the modes of transport - air, rail and roads, reaching the city is quite easy. Through this article, we will tell you all about how to reach Jaipur.
Traveling to Jaipur
By Air
The nearest airport from Jaipur is the Sanganer Airport, situated around 14 km from the city. Domestic flights connect Jaipur with all the major cities in and around Rajasthan, like Delhi, Agra, Kolkata, Mumbai, Ahmedabad, Jodhpur and Udaipur.
By Rail
Jaipur is well connected by trains to all the major cities of Rajasthan as well as the neighboring states. For instance, there are regular and direct trains to Delhi (258 km) and Agra (243 km). Apart from that, you will also get train services to Chennai, Jodhpur, Mumbai, Udaipur, Bikaner and Ahmedabad. For instance, the city is connected to Delhi by Ajmer Shatabdi and Delhi-Jaipur Express, to Mumbai by the Bombay Central-Jaipur and Aravalli expresses, and to Kolkata by the Howrah-Jaipur Express
By Road
A well-developed network of road connects Jaipur to important tourist destinations in North India. There are private as well as government buses that connect the Pink City with all the major cities situated nearby, such as Delhi and Agra. For instance, RSRTC operates deluxe coaches from Bikaner House in Delhi, near Pandara Road, to Jaipur. Apart from that, you can also hire a taxi for the purpose. If you want to go to Jaipur by road, take NH8 from Delhi.