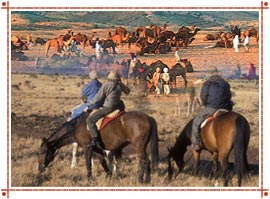 Rajasthan horse safari is one of the best ways to explore this state. Tracks speckled with cenotaphs and tombstones of the heroic and gallant warriors of Rajasthan serve as perfect trails for horse safaris. Passing through the exotic villages and visiting magnificent forts and temples are some of the other attractions of a horse safari tour of Rajasthan. Campfires in the evening with entertainment in the form of local folk dance and music further add to the appeal of horse safaris in Rajasthan. The nights are spent in ancient palaces and Garhs (small forts), providing all the modern amenities.
Some of the places famous for horse safaris in Rajasthan are:
Anokhi
The Jaipur Polo and Equestrian Academy is located in the Anokhi village, on the outskirts of the city. There are numerous trails leading from Anokhi to the fascinating countryside. One can also get riding lessons as well as Polo lessons from expert instructors here.
Shikarbadi
Shikarbadi is situated in Udaipur and once served as the hunting lodge of the Royal Family of Mewar. This resort houses the Imperial Stud farm, along with a special tented village, a small private lake and a deer park. The surroundings of the resort offer a number of options for daylong safaris. A campfire dinner with folk dances is another attraction of this horse safari tour in Rajasthan.
Aodhi
You can explore the massive Kumbhalgarh fort on a horse back with Aodhi serving as the base. Along with a number of exciting tracks, the horse safari from Aodhi will take you to exquisitely carved temples, a tribal village and ruins of an old settlement.
Ghanerao
The region of Ghanerao also offers some pretty fascinating options for a horse safari tour in Rajasthan.