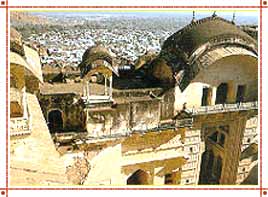 The tourist attractions of Kota include a number of monuments including museums, temples, lake, garden, etc. Following is a list of the various places that should be included in Kota, Rajasthan sightseeing tour:
Maharao Madho Singh Museum
Maharao Madho Singh museum is situated in the old palace. The museum has on display a rich collection of Rajput miniature paintings (Kota school), sculptures, murals, arms, etc. Also exhibited are some artistic items used by the former rulers of Kota.
Government Museum
Housed in the Brijvilas Palace, the Government museum exhibits an array of rare coins, manuscripts, sections of Hadoti sculpture, etc. The most remarkable item on display is a sculpted statue brought here from Baroli, famous for its beauty and the history attached to it.
Kishore Sagar & Jag Mandir
Prince Dher Deh of Bundi got the Kishore Sagar Lake constructed in 1346. A scenic lake, it houses a palace, Jag Mandir in the center. Made up of red sandstone, the palace looks a picture of serenity standing in the middle of the lake. Nearby is Keshar Bagh, housing some royal cenotaphs. Boating facilities are also available at the lake.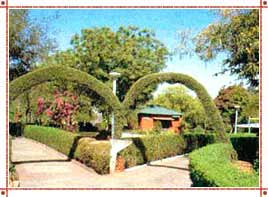 Chambal Garden
Situated near the river Chambal, Chambal garden serves as a popular picnic spot. The garden is nearby Amar Niwas Palace and presents a picturesque sight. One can even go for boating in the Chambal River.
Haveli of Devtaji
In the heart of a busy market is situated the striking Haveli of Devta Shridharji. The haveli is adorned with impressive murals and rooms beautifully decorated with some amazing miniature paintings.
Kota Barrage
The irrigation canal system on the Chambal River, Kota Barrage, serves as an ideal venue for excursions and evening walks.
Kansua Temple
Kansua temple is famous for a rare four-faced Shivlinga that it enshrines.
Apart from these some other places to see in Kota are Mathuradheesh temple, Yatayat Park, Adhar Shila, Budh Singh Bafna Haveli, Godavari Dham Mandir, Bhitria Kund, Haryali Water Park, etc.