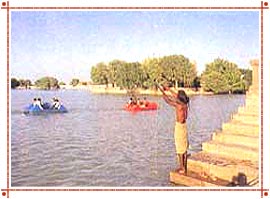 The largest fair of Bikaner, the Rajasthan Kapil Muni Fair is held on Kartik Poornima. The venue of the fair is Kolayat. It is located approximately 50 km to the southwest of Bikaner. This place was originally known as Kapilayatan, after the sage Kapil. It is believed that Sage Kapil did tapasya (meditation) at this place for the redemption of mankind. Even the sacred Puranas make a mention of Saint Kapil, along with the Kolayat Lake. It is believed that Kapil Muni was a descendent of Lord Brahma.
Located in an arid area, Kolayat has a lake with 52 Ghats. Some of these ghats are reserved for women. The Kolayat Lake has numerous temples on its ghats. One of the ghats is known as the Kapil Muni Ghat and houses a temple dedicated to Kapil Muni, consisting of a marble statue of the Muni. Kolayat is regarded as a great pilgrimage place. People think that a one-day visit to Kolayat holds as much significance as spending ten years at any other holy place.
Although the lake at Kolayat is thronged by devotees throughout the year to seek redemption, it holds a special significance at Kartik Poornima. Hoards of people swarm the place to take a dip in the holy water of the Kolayat Lake at the time of the Kapil Muni Fair of Kolayat near Bikaner. At the time of the Kapil Muni Fair of Bikaner, Rajasthan a cattle fair is also organized. The main animals traded during this fair are buffaloes, camels, horses and cattle. There is also a prize distribution ceremony, where certificates and prizes are given to the best breeders at the fair.