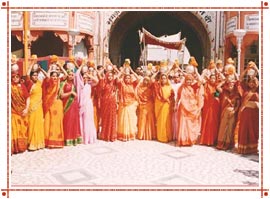 Situated in Chandangaon, Shri Mahavirji Fair of Rajasthan takes place in the Hindu month of Chaitra (March-April). The duration of the fair is from Shukla Ekadasi (11th day of the lunar month) to Baisakh Krishna Dwitiya (2nd day of the next month). Rajasthan Shri Mahavirji Fair is celebrated to honor the memory of Shri Mahavir Swami, the 24th tirthankara (saint) of the Jains.
The main venue of the fair is the Mahavirji temple. Residing in the temple (situated in an enclosure known as katala) is the image of Mahavir Swami. Legend has it that the statue was been excavated out by a leather worker from Devta-ka-Tila, a hillock. In front of the temple is a Man-Stambha (tower of glory) constructed of marble. In the morning, the statue of Mahavirji is given a bath and then pujan and ashta-argha (eight oblations) are performed. In the evening, ghee diyas (lamps) are lit and aarti is conducted.
The major pull of the fair is the Rath Yatra. On the day of Baisakh Krishna Dwitiya, is a magnificent procession for Kalash Abhishek, where the statue of Mahavirji is taken to the bank of river Gambhiri. A golden chariot (rath) pulled by bullocks takes the image of Mahavirji to the river. There are four persons in the Rath, waving chanvars (fly whisks) over the image. All throughout the procession, the atmosphere is filled with bhajans (religious songs) along with alternating slogans of "Shri Mahavir Swami ki jai".
Once the ceremony of Kalash Abhishek is over, the procession takes the reverse route back to the temple. The image is reinstated back at the temple. Thereafter, devotees congregate at the temple to pray and be blessed by the saint. Apart from the permanent shops exist at the site, a number of temporary shops also come up at the venue. These shops serve the needs of the visitors.