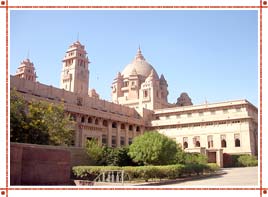 Jodhpur is a city rich in history as well as architecture. The main tourist attractions of Jodhpur consist of its massive fort, palaces, museums, lakes, gardens, etc. Given below is a list of the places that should be included in a Jodhpur, Rajasthan sightseeing tour:
Mehrangarh Fort
One of the largest forts in India, the Mehrangarh fort is the pride of Jodhpur. Situated on a 150 m high hill, this magnificent fort was founded in the year 1469 by Rao Jodha. The fort has seven gates, some of which still stand as a witness to the battles fought by the armies of Jodhpur. The fort houses a number of palaces inside, with extensive patios. The main palaces are Moti Mahal, Phool Mahal, Sheesh Mahal, Takht Vilas and Jhanki Mahal. A museum also finds a place inside the fort, displaying a rich collection of old royal palanquins, arms, paintings, costumes, etc. There are also a number of galleries and temples inside the fort. The Mehrangarh fort is a living proof of the expertise and hard work of Jodhpur artisans.
Umaid Bhavan Palace
One of the famous places to see in Jodhpur is the Umaid Bhavan Palace. Built with the noble intention of providing employment to the people during famine, this palace is an architectural beauty. The palace has been divided into three parts. In one part, functions a hotel, in the second, a museum and the third houses the royal family.
Rai ka Bag Palace
Rai ka Bag Palace was amongst the favorite retreats of Maharaja Jaswant Singh II. Built by Hadiji, the queen of Maharaja Jaswant Singh I, the palace ranks amongst the popular attractions of Jodhpur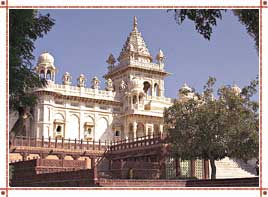 Jaswant Thada
Jaswant Thada is a royal cenotaph built in the memory of Maharaja Jaswant Singh II. A white marble memorial, the cenotaph is adorned with exquisite carvings. It houses the portraits of the former rulers of Jodhpur. Built like a temple, the Thada is a perfect example of skill of the Jodhpuri sculptors.
Museums
The most famous museum of Jodhpur is the Government museum situated in the Umaid public gardens. It has on display an array of weapons, textiles, miniature portraits local arts and crafts, etc. Along with that, the other museums of Jodhpur are the Mehrangarh fort museum and the Umaid Bhavan palace museum.
Parks and Gardens
There are a number of beautiful parks and gardens in Jodhpur. The Mandore garden houses the chattries (cenotaphs) of the erstwhile rulers. The Umed garden and Nehru Park hold special attraction for the kids.
Temples
There are a number of temples in Jodhpur. One of the famous temples of Jodhpur is the Raj Ranchhodji temple, enshrining a black marble statue of Ranchhodji. Then, there is the Achal Nath Shivalaya, a must see for the devotees of Lord Shiva. For Lord Krishna devotees, there is the Kunj Bihari temple and the Rasik Bihari temple. Some other famous temples of Jodhpur are Ghanshyamji temple, Chamunda Mataji temple, Baba Ramdeo temple and Udai Mandir.