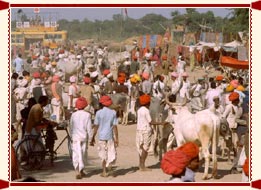 Bateshwar is a dusty town situated nearly 70 kilometers from downtown Agra. An otherwise sleepy town, Bateswar, an important spiritual and cultural center, comes to life in the month of November every year. It is when the annual cattle fair is held here. This enormous cattle fair is held at the banks of Yamuna in the 'Kartik' month of Hindu calendar. Nevertheless, the fair is not the only draw for the tourists. Apart from that there are as many as 108 temples of Shaivite sect at the banks of Yamuna. They offer the welcome break from the architectural monotony that the city of Agra offers.
Bateshwar is named after the presiding deity of the region, Bateshwar Mahadeo. The place has a small but magnificent temple of the deity apart from the 108 temples dedicated to the gods and goddesses of the Hindu pantheon. During the annual cattle fair devotees congregate here in large numbers to worship Lord Shiva and take holy dips in river Yamuna.
The livestock fair has a very colorful ambience here. Thousands of cattle mainly Cows, Bullocks, Buffalos, Goats, Camels and Elephants assemble at this fair adorned in beautiful rags and colors. A wide variety of birds and pets are also available here. Owners and buyers conduct serious business combined with the gaiety of a market place. Various folk based cultural programs are also organized here.