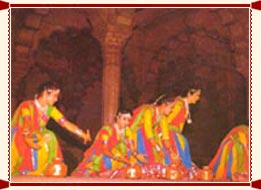 The Taj Mahotsava is another very popular festive in India. Taj Mahotsava that is held annually at Agra is a colorful display of the Arts, Crafts, Culture and Cuisine of the Braj area. Organized by UP Tourism and held as an annual event at the Shilpgram, Taj Mahotsava is a fitting tribute to the legendary skills of master craftsmen of Uttar Pradesh. The things that are on display include Marble work and Zardozi from Agra, Zari work from Benaras, hand printing from Farrukhabad, Chikankari from Lucknow, brassware from Moradabad and glassware from Firozabad among others.
It is believed that no Indian festivities can ever be complete without the preparation of exotic cuisine. Some of the best and richest foods are available during this time. Try out various Kebobs platters that are on offer. The Oudh stall is the one to go for. The stall will offer you some of the most tasteful and aromatic cuisines from the Oudh region.
Nevertheless, the odes to the beauty are the soul-stirring performances from folk artists of various states. The subtle performance will engulf you to the extent of casting a spell. Throughout the Taj Mahotsav, one can experience a profusion of folk music and dances of Bundelkhand, 'Nautanki' and Dadra performed just the way they used to be centuries ago. The experience is so enthralling that you would not stop yourself from joining with the folk dancers.