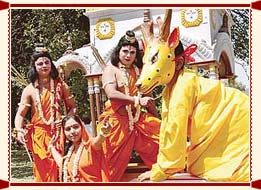 Ramlila, plainly speaking, is a stage representation of the famous Hindu Epic Ramayana. The Ramayana is based on the life, times and values of Lord Rama. Lord Rama is called the Maryada Purushottam or the 'The best among the dignified'. The story of Lord Rama and his comrades is so popular in India that it has actually amalgamated the psyche of the Indian mainstream irrespective of their religion. The very story of Ramayana injects ethics to the Indian mainstream.
Although Ramlila is celebrated all over the country, in Delhi and Uttar Pradesh it is sort of craze. Even in the state of Uttar Pradesh, the one celebrated in Ramnagar needs special mention. Ramnagar, the seat of erstwhile Ramnagar kingdom, is situated at a distance of 15 kilometers from Varanasi. Ramnagar presents the Ramlila in the most traditional style. The Ramlila of Ramnagar is distinct from its other poor cousins in every possible way. Contrary to what is prevalent in Delhi and around, the performances in Ramnagar last for 31 days instead of 10. Hundreds of Sadhus called the 'Ramayanis' come to watch and recite the Ramayana.
The Ramlila celebration in Ram Nagar is also distinct in terms of 'sets'. Instead of permanent single set that is so prevalent in Delhi and western Uttar Pradesh, the Ram leela of Ramnagar is performed on multiple sets. Permanent structures are built and spaces designated to represent the main locales of the story i.e. Ashok Vatika, Janakpuri, Panchvati and Lanka etc., transforming the whole town into a vast Ramlila set. The audience moves along with the performers with every episode, to the next locale. The whole seen, itself looks like a leaf out of some mythology. The greatest attraction is the austere character of the Ramlila. If there is any art form in India that has been unaffected by the onslaught of technology, it is this. To this day electric lights, mikes and loudspeakers are not used, whereas the average audience is rarely less than ten thousand on any day. Surely, the colorful spectacle is worth visiting.