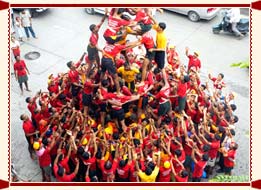 Janmashtmi is one of the most widely celebrated festivals in India as well as Uttar Pradesh. Although the festival is celebrated all over the Uttar Pradesh but it is the celebrations in the Mathura zone that has a special significance in this festival. The twin cities of Mathura and Vrindavan celebrate the festival of Janmashtmi with great pomp and show. Mathura being the birthplace of Lord Krishna and Vrindavan being his residence has a special place in the hearts of Krishna devout.
The festival of Janmashtmi Temples is celebrated in Mathura with great enthusiasm. The main celebrations are performed at the Dwarkadhish temple in the form of Jhulanotsava and the Ghatas during the entire month of Monsoon called 'Shravan' in Hindi. The Ghatas are the most spectacular feature of the month long celebrations. During the Ghata of a particular color the whole temple including the clothes of deities are covered with decoration in the same color.
Vrindavan has a distinct style of its own. The processions heavily decorated with 'Jhankis' or tableaus, depicting various episodes of Lord Krishna's life, are brought out in the city. The most spectacular displays during the period are the gold and silver 'Jhulas' or swings that are taken out on display only during the occasion. The Raslila enactments further add to the festive spirit. Apart from that Earthen-pots of curd and butter are hung up over the streets. Young men enacting an episode from Krishna's childhood form human pyramids by climbing on each other's shoulders and try to break these up.