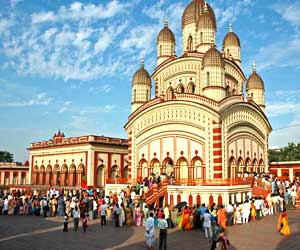 Location:
Eastern Bank of Hogghly River, near Kolkata
Dedicated to:
Goddess Kali
Built in:
1855
Kolkata is renowned for its holy temples and monasteries. The entire city breathes celebration, festival, religion and spiritualism. Goddess Kali is worshipped here, in her various forms, with immense devotion and faith. Umpteen temples dedicated to the Goddess can be found in every nook and corner of the city. One of the most renowned Kali Mata temples in Calcutta is the Dakshineswar Temple. The temple is also renowned for it association with the great saint Sri Ramkrishna Paramhans.
The construction of Dakshineshwar Temple started in 1847, after Queen Rasmani of Janbazar felt that she had received a divine order to construct the temple (at the present site). The construction of the temple was over by 1855, costing an estimated 9 lakh rupees. The temple and its adjoining area cover about 25 acres of land, making it one of the largest temples in Kolkata. The main temple premise is about 46 sq ft and rises over 100 feet high. The roof of the temple spires has been artistically grooved, resembling the Pirhas. The temple premise also has other subsidiary shrines in the compound.
Dakshineswar Temple is closely associated with Sri Ramakrishna Pramhans, as he was one of the very first priests of this temple. He came to this temple, along with his brother, who assisted him in performing the holy rituals. It is said that this is the divine place of Pramhans' holy enlightenment. It is where he received a spiritual vision and had a holy glance of Mother Kali. His room at the temple premise is open for all the devotees who come to the temple. The temple is visited by thousands of devotees every year, from India as well as abroad.