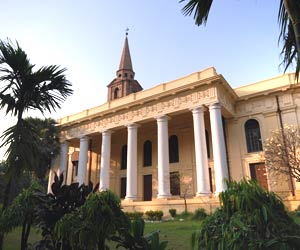 Location:
Kiran Shankar Roy Road, Kolkata
Highlights:
First British-built church in India
Built in:
1787
Kolkata celebrates the joy of religious amalgamation always. There are umpteen worship places in the city. Be it temple, mosque, synagogue or church, the city houses them all. St. John's Church is one of the most prominent churches in Kolkata. It is considered to be historic, as it was the first British built church in India. Despite being a Christian worship place, it is visited by people of all religions, because of the tranquility and spiritual aura of the place. In fact, it is one of the most visited religious places in Calcutta.
Built in the year 1787, this first Anglican church of India was attended by the crème de la crème of English society in the pre-independence era. It was then not only a center of worship but also a center of Christian society conglomeration for several other rituals. Many prominent personalities of that era were baptized as well as married at this deified church only. This church is also known for being the graveyard of some of the famous personalities of that time, like Job Charnock, the founder of Kolkata.
Apart from being known for its religious and historic details, St. John's Church of Calcutta is also known for its architectural grandeur. Its architecture is based on the St. Martin-in-the-Fields Church of London, which is considered to be one of the most beautiful churches in the world. The entire building is based on the unique pattern derived from the blend of Colonial-cum-Grecian architecture. Spaciousness is the best part of this entire architecture. The pleasant blend of tower and portico with columns gives an interesting view.