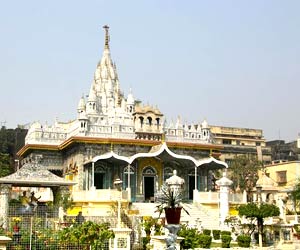 Location:
Badri Das Temple Street, Northeast Kolkata
Dedicated to:
Avatars (Reincarnation) of Divine Power (in Jainism)
Built in:
1867
Kolkata is a city with umpteen temples and numerous religious shrines. However, Jain temples are still rare. One of these rare Jain temples in the city is the Pareshnath Temple. Situated in the north eastern corner of Calcutta, it is a temple not only marked for its religious auspiciousness, but also for its magnificent architecture. The temple premises houses four different temples, dedicated to four different holy preachers of the religion whom they regard as Avatars (Reincarnation) of Divine Power.
Pareshnath Jain Temple was built in 1867 and is a magnificent piece of architecture. It was built by a connoisseur of art named Ray Badridas Bahadur. Built of flamboyant mirrors, colored pebbles and stones and wonderful glassy mosaic, the temple looks wonderful at a glance. It stands on mirror-inlay pillars and opens to the premise through a stained glass window. The marble floors, with floral design, provide a classy look to this colossal architecture. The temple premise also overlooks a beautiful garden, with blocks of glass mosaics and silver European-styled statues.
The main amongst the four shrines within Pareshnath Jain Temple complex is the one dedicated to the 10th Jain Avtaar Sri Sital Nath Ji. The beautiful temple has a never-extinguishing lamp, which stands as the symbol of immortal existence of God. The temple situated to the south of the main temple is dedicated to Sri Chanda Prabhujidev. To the right of the main temple is a temple in honor of Dadaji Garu and Kushalji Maharaj. The 4th temple, situated towards the north, belongs to Mahavira the last guru of Jains. You can visit the temple any day of the week, between 6.00 am and 11.00 am or 3.00 pm and 7.00 pm.