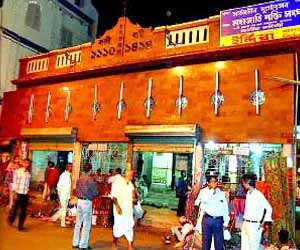 Location:
Shyambazar, Kolkata
Dedicated to:
Siddheswari Mata, a form of Goddess Kali
Highlights:
One of the oldest temples in the city
Kolkata is the place where religion, festival, celebrations and devotion are inculcated within people. Goddess Kali is worshipped here in various forms, with immense devotion and faith. There are many temples of the Goddess in Calcutta, which remain flooded with devotees throughout the year. One such temple is the Thanthania Kalibari Temple. Located in the Shyambazar, it is considered to be one of the oldest temples in the city.
Thanthania Kalibari is said to be built in 1703. However there is a little ambiguity over the fact, as a sect of people considers it to be built in 1803. However, on one of the stones of the temple '1110' is inscribed, which when converted from Bengali calendar to Gregorian calendar, states 1803. So, the more popular belief is that the temple was built in 1803. This temple is dedicated to Siddheswari Mata, a form of Goddess Kali and was built by Sankar Ghosh.
Thanthania Kalibari has a small clay idol of Goddess Kali, which is reconstructed every year. The temple also houses a small idol of Lord Shiva. The best days to visit the temple are considered to be Tuesdays and Saturdays, as these are considered to be the holy days of Mata Siddheswari. Visiting the temple on any "Amavaysa", or Lunar Eclipse, is also considered fruitful. People in Kolkata also visit the temple on the day of Kali Puja.