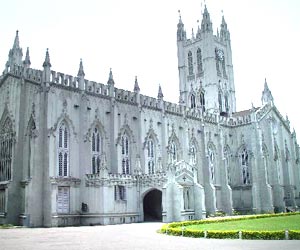 Location:
Southern-end of the Maidan, Kolkata
Dedicated to:
Saint Paul
Built in:
1847
Highlights:
First Episcopal Church of the eastern world
Kolkata is the true representation of secular India. The people in this city bow equally to temples, mosques and churches. There are umpteen religious places in the city. Amongst the most revered of them is the ancient church known as St. Paul's Cathedral, built in 1847. Dedicated to Saint Paul, this church was the first Episcopal Church of the eastern world. Situated at the southern end of the Maidan, St. Paul's Cathedral attracts people from Calcutta as well as other parts of the world. Thousands of tourists visit the church every month.
St. Paul's Cathedral, apart from being a religiously sanctified place, is a wonderful piece of architecture. It took about 7 years in its construction, before it was opened to public in 1847. The motif of architecture is typical Indo-Gothic in nature, characterized by slender vertical piers, counterbalancing buttresses, and vaulting and pointed arches. The entire credit for this wonderful architecture goes to Major W.N. Forbes, the famous English architect. This church was patronized by Bishop Wilson in 1839.
St. Paul's Cathedral was renovated in 1897, after it suffered damages in the earthquake. However, 1934 earthquake led to the collapse of the tower of the church and severely damaged the entire building. The tower was the rebuilt again, on the pattern of the Bell Harry Tower of Canterbury Cathedral. The main hall of the cathedral has been adorned with marvelously carved wooden church benches and chairs. The eastern wall of the church, on the other hand, was carved with wonderful art works.
St. Paul's Cathedral beautifully depicts the life of Saint Paul, through the pictures, posters and various representations of his holy deeds. The inner atmosphere of the church premises is extremely serene and soothing. People who are not even religiously inclined come here to get rid of the tensed atmosphere outside, as there is a special spiritual aura about this place. Recently, a meditation point has also been set up in the church, in collaboration with the people of Shantiniketan, situated nearby.