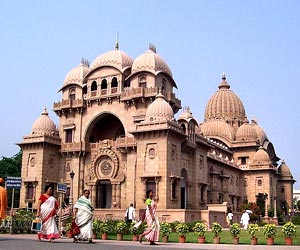 Location:
Howrah, near Kolkata
Highlights:
Headquarters of Ramakrishna Mission
Ramkrishna Mission is one of the most popular spiritual disciplines in India. Apart from preaching brotherhood and fraternity amongst all the existing religious beliefs, the mission also makes an appeal for logical analysis of any thought, custom or belief. Though the mission is spread worldwide, with its centers in several countries across the borders, the headquarters of the mission is located at Belur Math, near Kolkata. Situated in Howrah district, approximately an hourís drive from Kolkata, it is spread over approx forty acres of land, on the western side of the River Hooghly.
Belur Math is not a pilgrimage for any specific religion; it welcomes people of all the religions wholeheartedly. Even those who are not interested in religion and rituals come here, for mental peace and spiritual enlightenment. It was the great sage and philosopher Swami Vivekananda, who established this Math here. Named after his Guru - Sri Ramkrishna, the mission was intended to focus on divine devotion, logical interpretation and communal harmony. He set up the headquarters of this mission at Belur in 1897, after installing the urn containing the sacred relics of Sri Ramakrishna at this place.
Today, Belur Math stands as the hub of the world-renowned spiritual movement known as the Ramakrishna Movement. It is visited by thousands of tourists from India and abroad, every day. The campus encloses in itself temples dedicated to Sri Ramakrishna, Sri Sarada Devi Swami Vivekananda and Swami Brahmananda. The holy relics of these great souls are enshrined in these temples. The main temple, with the relics of Sri Ramakrishna, namely the Ramkrishna Temple, is an architectural wonder. It is designed in a way that it includes the motifs of a temple, a mosque as well as a church.
Apart from these three temples at Belur Math, the room where Swamiji lived the last days of his life and attained Mahasamadhi is also one place that one must not be missed. Other than that, the Old Math, the Old Shrine and the Samadhi enclosure of seven direct disciples of Ram Krishna are the places you must visit in the Math. The Belur Campus also comprises of a museum, called Ramkrishna Museum. It exhibits articles and objet d'art related to Sri Ramakrishna, Mother Sarada Devi, Swami Vivekananda and many other direct disciples of Sri Ramakrishna.