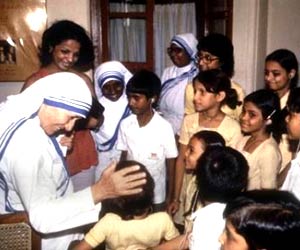 Founded by:
Mother Teresa
Founded in:
1950
Kolkata, apart from housing several worship places, also houses the sacred sanctum of social work, called 'Missionaries of Charity'. It is basically a Roman Catholic religious order, founded in 1950, by Mother Teresa in Kolkata (then Calcutta), which works for the poor and destitute. Started with just 12 volunteers, this order has now spread to 133 nations of the world, with about 4,500 permanent women volunteers called 'Sisters'. The members of 'Missionaries of Charity' are vowed to follow chastity, poverty, obedience and wholehearted free service to the poorest of the poor, for their entire life.
'Missionaries of Charity' works for the real needy and deprived section of society. It helps the sick, orphans, lepers, AIDS victims, abandoned elderly, mentally challenged people, refugees and ex-prostitutes. The charity has 19 homes in Kolkata; each of them working for a specific cause, e.g. Nirmal Hriday - the home for pure heart, working for the sick, dying and destitute in the city of Kolkata. Other homes include Shanti Nagar - the city of peace, meant for leprosy patients and Nirmala Shishu Bhawan, meant for orphaned kids. The Missionary also works for educating the street children of Kolkata.
Apart from Calcutta, the Missionaries of Charity and its foundations are also active in countries like Venezuela, Rome, Tanzania and Austria. There are also dozens of its foundations in Asia, Africa, Europe and United States. The sister concerns of Missionaries of Charity, like Missionaries of Charity Sisters and Missionaries of Charity Brothers, are also equally active in the arena of social work, throughout the world. From 1950 to 1997, Mother Teresa headed the organization. After her heavenly journey, Sister Mary Nirmala Joshi took over. Currently, Sister Mary Prema is heading the Missionaries of Charity.